The Kaneda Vision
MISSION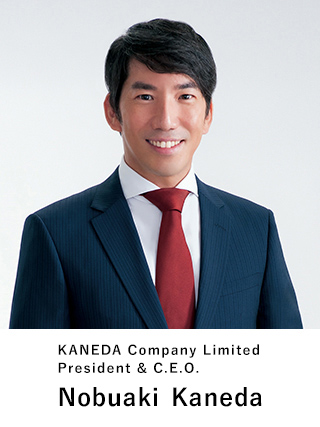 With our mission of "contributing to society's development by providing customers with products focused on food, health, beauty, and the environment", Kaneda strives to be a company that customers will trust and hold in high esteem.

One feature of Kaneda is that it is a collective of specialized trading firms. Departments have been established for each product carried, including Food and Oils, Medicine, Cosmetics, Chemicals, Industrial Materials, as well as International and Quality Control, and each of these departments strives to earn the customer's trust through powers of information, action, and suggestion, keeping in mind our philosophies of "quick action, quick response" and "be helpful in all things".

We have established an Inquiry Management System that centrally manages inquiries from our website so that any inquiry sent is promptly forwarded to the relevant department and answered directly with specialized information.

A second feature is our thorough quality control. As a medical and pharmaceutical trading company, we have received manufacturing licenses under GMP and more ever have installed a quality control building complete with pharmacists and analytical instruments, issuing CoAs and selling the products we carry responsibly. We also introduce APIs from overseas to Japanese companies.

Furthermore, we have installed a GMP-compatible pharmaceutical warehouse equipped with facilities that can manufacture high variety, low volume lot consignments from raw materials to finished products. In particular, we work as the general sales agent in Japan for the white mineral oil HICALL® series, based on CoAs issued after strict in-house testing.

In the Food Department, we have a test kitchen for confectionaries and baking involved in developing new products with new flavors and taste.
VISION
In a society where increasingly difficult changes and advances move on, Kaneda Co., Ltd, strives to develop a vast array of raw materials and components for our key clients that are leading businesses in broad and diverse industries. In the information age of today, we proactively provide relevant information, new technologies, and development proposals for new products and we are working tirelessly to give our clients the very best in satisfaction. We provide a wide variety of materials for many different fields such as food ingredients, cosmetic materials, pharmaceuticals, medical products, electronics packaging, materials for distribution, resins, paint ink, adhesives, lubricants, and lubricating oil additives.
Co-advance = Progress, Develop and Grow Together
As the above motto suggests, we aim to build a creative business for the primary benefit of our clients based on the idea to build a fresh and vibrant company full of energy.