The Kaneda Vision
Message from the CEO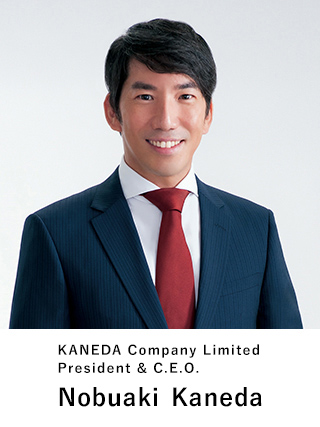 Kaneda aims to become a company that is highly rated and trusted by customers based on its mission of providing products for food, health, beauty, and the environment, thereby contributing to the development of society together with customers.

One of Kaneda's features is its aggregation of specialty trading companies. The Sales Department consists of separate units that handle food and oils, pharmaceuticals, cosmetics, chemicals, and industrial materials. Each unit endeavors to win the trust of customers by providing information, suggestions, and services that meet their needs.

The second feature is stringent quality control. As a trading company that handles pharmaceuticals, Kaneda has acquired marketing authorization for pharmaceutical products based on Good Manufacturing Practices (GMP), and markets products responsibly using stringent quality assurance controls. Kaneda established a quality control building based on GMP for pharmaceuticals, as well as for food and cosmetics, ensuring customers are able to feel safe using our products.

The third feature is our manufacturing activities. To satisfy the further needs of customers, we possess and use equipment for the contract production of high-mix, low-volume materials and products. We also possess a variety of grades of Hicall® liquid paraffin for different industries, thereby contributing to customer requests as a general marketer.
Management philosophy
The industrial society continues to rapidly change and progress. Kaneda was originally established in 1905 as an oil store. Taking pride in its 116-year history, we will pursue future business under our management philosophy of promoting the creation of new value as the best partner for customers based on a culture nourished through oil trading.

In this highly information-oriented society, we will focus on corporate activities that satisfy customers by broadly collaborating with overseas businesses for the development of new technologies and products, as well as for the proactive provision of related information.
Co-advance—let us advance, develop, and upgrade together!
Kaneda will co-advance with its management executives and employees, along with all stockholders, customers, and other stakeholders. Kaneda complies with all regulations and aims to become a company that provides a fulfilling, vigorous, fresh, and healthy workplace in pursuit of creative corporate activities.