Together with Customers
Obtaining ISO
At Kaneda Co., Ltd., we have obtained ISO 9001 and ISO 14001 approval, and are integrating QMS and EMS into KMS (Kaneda Management System) with the goal of serving our business partners and promoting environmental protection alongside our business partners.
Chemical Substance Control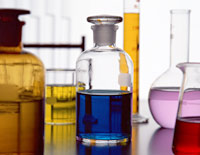 Many chemical substances must be handled carefully or have legal performance obligations. The organization at Kaneda Co., Ltd. manages the handling status of chemical substances based on the handling and sales of chemical substances in each sales department and office, which operates as a system.

We have established handling rules and managers for items, such as import and export goods as well as pharmaceuticals, and have also incorporated ISO audits in the monitoring of legally required performance obligations.

Furthermore, our supply chain serves to communicate information, with the acquisition, accumulation, and provision of information on chemical substances as well as the verification of regulations.
Information Security
Kaneda Co., Ltd. promotes the appropriate management and legitimate use of information by establishing a code of conduct and work regulations in order to protect and manage personal or confidential information.