Quality Control and Quality Assurance System
At Kaneda Co., Ltd, we manage pharmaceutical product and foods manufactured in-house as well as imported goods using an established quality control system.
To ensure safe use of our products, we have also established an organizational system to carry out quality assurance.
Quality Control System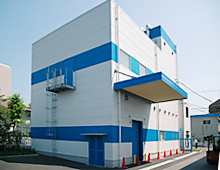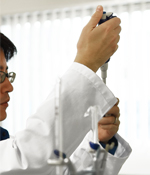 In our laboratory, a host of cutting-edge machines and the latest equipment are used to analyze raw materials and products and carry out quality control.

For quality control in pharmaceuticals manufacturing, we have management systems required by GMP to respond to our clients' demands.

For example, APIs(Active pharmaceutical ingredients), tests are performed by analysts with a wide range of expertise, from quality testing standards and testing method settings to method validation and administering quality tests, and these expert analysts provide support, including the acquisition of data for approval application, for everything from the client's initial development stages to approval of manufacturing and sales.

We strive for quality control that meets our customers' demands after the product goes on the market.
Quality Assurance System
At Kaneda Co., Ltd, we strive for quality assurance with a quality assurance management system throughout the entire company, from the sales department to the quality control department.