Together with Employees
Educational Systems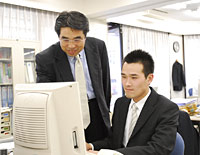 Starting with a training program when entering the company, a yearly educational plan for each employee is created, as well as shared training plans for the entire company, each section, and each group, creating a system in which educational training is implemented, verified for its effectiveness, then followed up on. Among training programs, programs such as English conversation, training for qualifications, industrial group seminars, and academic training are established as needed to support improving the level of the individual.
Implementing Mental Health Care
At work or at home, employees will encounter all kinds of problems, which may lead to anxiety and suffering. Through contracts with industrial counsellors as well as relaxation workshops, we focus on mental care so that, in hard times, the employee will not have to suffer alone, but rather work together to find a solution.
Hosting the Health and Safety Committee
In order to prevent employee health problems, promote maintenance of health, prevent causes and recurrence of occupation hazards due to sanitation issues, and to create a good working environment, we conduct monthly meetings with industrial physician.
Introducing a Childcare Leave System
We have a six-month childcare leave system in addition to the year-long maternity leave stipulated by law. A work time reduction system is also available up to one hour per day to help create an environment in which it is easy to work.