Together with Society
A Mindset of Helpfulness and Community Service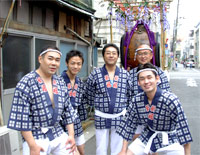 Kaneda has opened a Communication Room in Nihonbashi and Asakusabashi to measure communication between employees and with customers. Alcoholic beverages are free with a donation of 200 yen per person. These donations are given to charities such as Nemunoki Academy, and we have continued making donations to Duskin Circle of Love Charity International Relief Foundation, earthquake relief, and more. We also participate in community events, including joining community festivals as mikoshi (palanquin) bearers at town festivals and participating in charity flea markets.
Together with Oil
Known as the God of Oil, Rikyu Hachimangu was enshrined in Oyamazaki, Kyoto on August 23rd, 895, and it was at this shrine that the first oil, perilla seed oil, was pressed in Japan. Oil Day was created to commemorate the day the god was enshrined, and every year Kaneda celebrates by exhibiting oils and giving away perilla seed oil, the first oil pressed in Japan, to spread awareness of Oil Day.
Preparing for Disasters
Kaneda went through the Great Kanto Earthquake and the Tokyo Air Raids. Based on this past experience, as well as fire regulations, Kaneda Co., Ltd. has established a set of required items for fire prevention, and has put in place a fire fighting plan with fire prevention, disaster prevention for earthquakes and other disasters, safety of human life, and mitigation of damage as its goals. In particular, the company has taken measures against earthquakes through the stockpiling of water, food, and emergency supplies, as well as through practical training, at the same time implementing mental preparation for emergency situations.