The Kaneda Shoten Era
Since there are limits to what can be done under individual management, Kaneda Oil Store was incorporated in 1948, establishing Kaneda Shoten Co. Ltd with 1.5 million yen in capital and Katsuji Kaneda as the appointed president. Kaneda currently has 150 million yen in capital.

After the war, Kaneda used its experience in oil to temporarily produce and sell sports oils and pomades. The Imperial Household Agency bought sports oil from Kaneda, making the company "purveyors to the Imperial Household".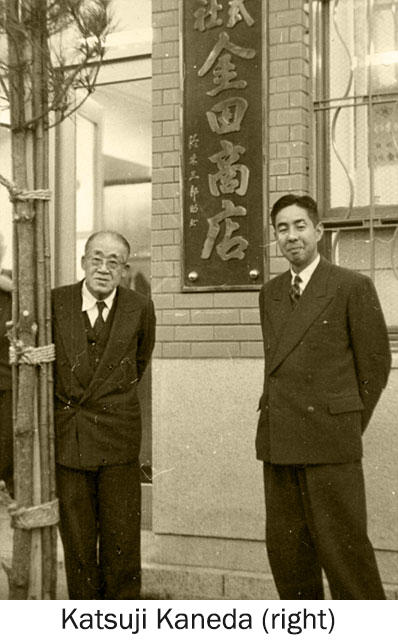 Under the controlled economy, vegetable oil and petroleum were rationed, but when rationing was lifted in 1950, Kaneda immediately began negotiating with major oil and petroleum manufacturers in Japan including Ajinomoto, Nishin Oil Mills, Nippon Suisan, ADEKA, and Nippon Oil, becoming a contracted dealership and laying the foundations for what Kaneda would become today.

In addition to oil, food, and petroleum sales, the company took into consideration future development and began selling chemicals in 1952 and continued to increase the variety of products carried year after year thereafter, going beyond the food, paints, and printer ink to now work with clients in a wide range of industries, including petroleum, cosmetics, pharmaceuticals, electronics, and electricity.

In 1952, Kaneda's sound business transactions were recognized by the Bank of Japan, and the promissory notes issued by Kaneda Shoten were certified as "Commercial Bills Eligible for Rediscounting with the Bank of Japan", a rare honor for small to medium enterprises at the time, and its proven track record and trust continue to this day, with Kaneda sometime being called upon to provide information for public institutions.

Business evolved alongside the changing of the times, with Kaneda opening gas stations in the city starting in 1954 and opening a car-elevator parking structure in 1966.

The company opened sales offices in Osaka in 1959, Sendai in 1960, and Nagoya in 1962, establishing a nationwide sales network. Another sales office was opened in Fukuoka in 1975.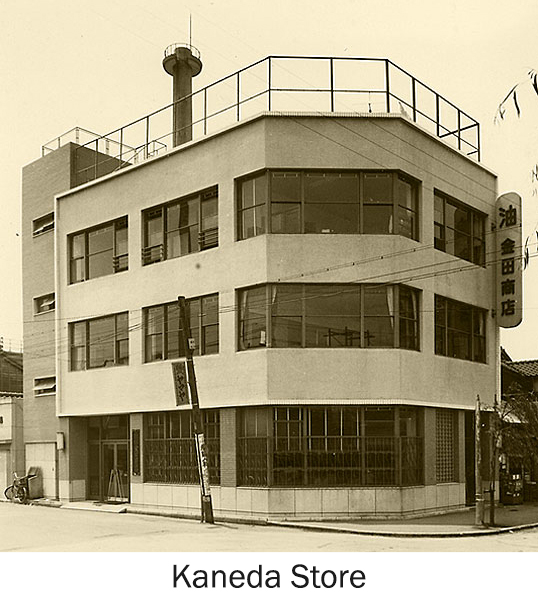 The company stated bringing in business partners in 1964, hosting economic lectures every year, now called the New Year Kaneda Spring Lectures, which draw roughly 700 guests every year and are very well-received.